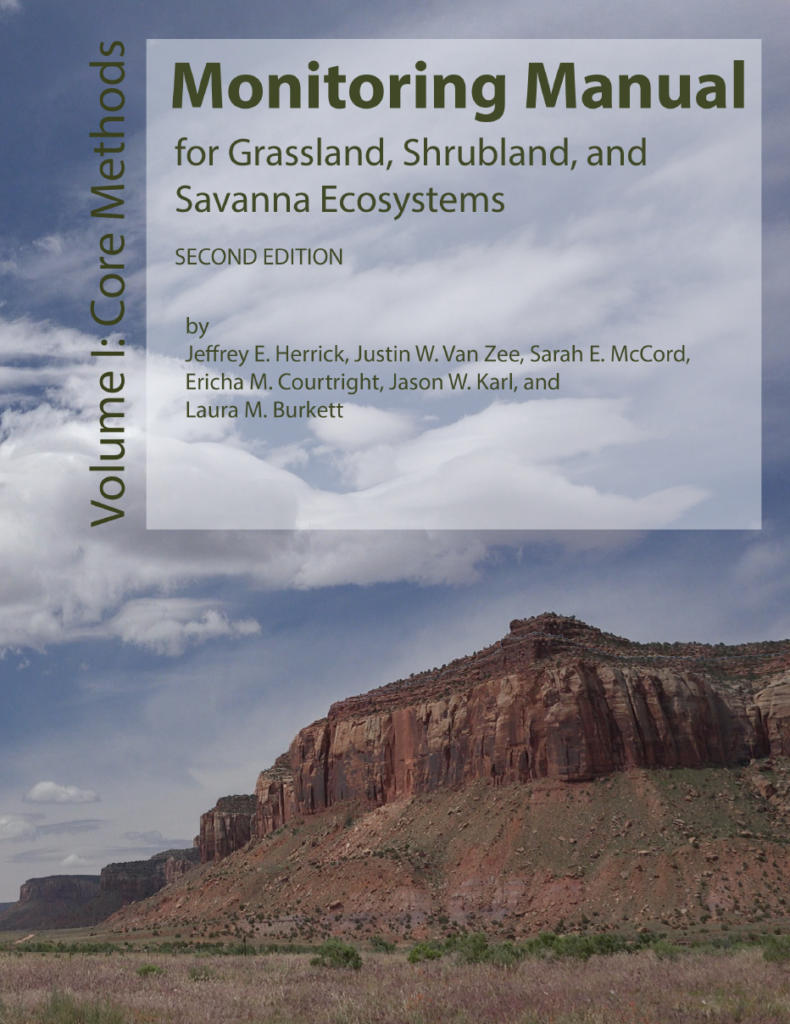 Volume 1
English 2nd Edition (508-compliant) | English 1st Edition | Mongolian 1st Edition | Chinese 1st Edition
Volume 2
https://jornada.nmsu.edu/files/bibliography/05-008.pdfEnglish 1st Edition | Chinese 1st Edition
The Monitoring Manual for Grassland, Shrubland and Savanna Ecosystems is a two volume technical reference intended to provide a standard set of methods for monitoring project design and data gathering. It is the result of a partnership which started in 1994 between USDA-Agricultural Research Service (ARS) and Jornada Experimental Range (JER) in cooperation with the U.S. Environmental Protection Agency (EPA) Office of Research and Development, the Natural Resource Conservation Service (NRCS), and the Bureau of Land Management (BLM).
Volume I of the Monitoring Manual contains the basic reference material required to implement a prescribed monitoring program collecting vegetative and soil data pertaining to soil and site stability, hydrologic function, and biotic integrity. Volume II contains in-depth information on monitoring program design, supplementary data gathering methods, adapting monitoring to meet special case needs, and data analysis and interpretation.
The Monitoring Manual is currently in its second edition and has been revised to reflect input from multiple agencies and experts as well as direct field testing of the methods. The changes in the second edition include:
Reconciling differences in the methods used in the NRCS NRI program and the BLM AIM strategy to further standardize data collection
Adding methods for vegetation height, species inventory, and plant identification to Volume I
Amending the monitoring program design (Chapters 1-8 of Volume II) to reflect the NRCS Conservation Planning Process and the BLM AIM Strategy
Moving the plant density (formerly known as belt transect) and semi-quantitative methods from Volume I to the supplemental methods section of Volume II
Enhancing instructions on establishing a monitoring plot, plot characterization, and plot observations and moving them to Volume I
Including a new chapter on Quality Assurance and Quality Control in Volume I
The first edition (first published in 2005 and reprinted in 2009) can be found with other monitoring manuals here.